Friday, January 28, 2011
I thought of this recipe from a movie I used to watch. And if anyone out there knows it, could you please tell me the title? I used to watch it all the time with my sister-a movie about a little girl who ice-skated. Her mom died and she was sent to live with her dad. She had a guardian angel who
always
made her pasta with sun-dried tomatoes. Sometimes I think I am making this movie up, because I haven't been able to remember the name for the life of me! But I promise...
it is real
. I think. Anyways, every time I think of this movie I want that pasta that the guardian angel made for the little girl.
Ingredients:
2 Chicken Breasts
2 Tablespoons Olive Oil
3/4 cup Sun-Dried Tomatoes
1 cup Marinated Artichoke Hearts
1 Garlic Clove
1/2 Box of Angel Hair Pasta
Grated Parmesan Cheese
First, chop and saute the garlic and the olive oil for a few minutes. Meanwhile, cook the angel hair pasta on another burner (3-5 minutes). On a separate burner, cook the chicken breasts (yes this unfortunately creates a lot of dirty dishes)! Once the garlic and olive oil are heated, add the sun-dried tomatoes and artichoke hearts. Once pasta is cooked, toss the tomatoes and artichoke hearts in it. Top with a chicken breast and parmesan cheese!
While the chicken was cooking...I admired the new shelves Jeff put up for me tonight! I was getting sick and tired of all of my bulk item foods piling up in plastic bags in my cabinets. So, I bought some cute canning jars to hold them in. What do you think?
Here we have: wild rice, fruit trail mix, muesli and cinnamon.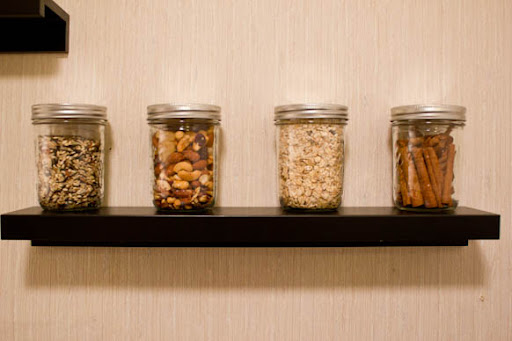 Alright, back to cooking! Here are the artichoke hearts and sun-dried tomatoes I used (you can also used dried tomatoes in water, and simply drain half or more of the water out).
One more side note: do you remember how my toes were blue last week? Yup, still are. Therefore I wear Jeff's tiger slippers :) They are
so
obnoxious but
more importantly, so
warm.
I just took them off since my feet are a little
too
hot at the moment. At least my toes aren't blue though, right? And at least we had a great meal for dinner!
We're off to have a movie night with our friends
Lauren
and Fritz! We're watching "Easy A"...which is probably super corny, but hopefully entertaining. Accompanying it with some Trader Joe's apple bread! Hope you have a fun weekend planned :)