Saturday, January 22, 2011
Hi everyone! Sorry I've been MIA for a few days. I usually try and post every day or every other day, but I have had a bit of a problem on my hands...or should I say my toes. Yes, my toes. You see-3 of my toes turned purple and numb this past week. AH! I went to a podiatrist and was diagnosed with
Raynaud's Disease
. Unfortunately, I'm sitting here with blue toes still. However I managed to bake today which made me think less about my pain and put a smile on my face.
Tonight we are going to a going away party for our dear friends Rob & Kelvie Carr, who are moving to Indiana on Thursday :( If any of you readers are from Indianapolis please be their friend! My sister eats completely gluten-free so I made a gluten-free treat for her off of
Betty Crocker's
website. I'll re-post the recipe, but it is completely the same as good ole' Betty's.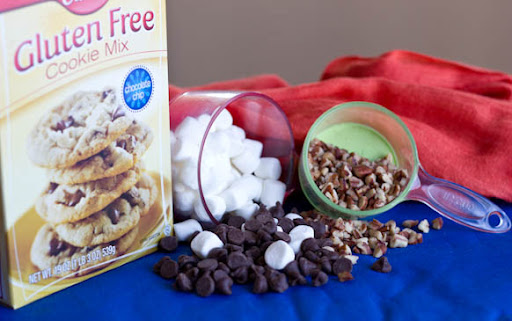 Ingredients:
1 box Betty Crocker Gluten-Free Chocolate Chip Cookie Mix
1 egg
1/2 cup softened butter
1 teaspoon vanilla
2 cups semi-sweet chocolate chips
3 cups miniature marshmallows
1/2 cup chopped toasted pecans
First, mix together the softened butter, egg and vanilla until blended well.
Next, mix in the cookie mix and stir well.
Press the dough evenly into a 13 by 9 inch pan. Bake in the oven at 350 degrees for 20-25 minutes or until golden brown.
While they are baking, take some pictures of the cutest pups in the whole wide world! These are my parent's dogs: Kody & Klaire. Jeff and I hope that one day we can find a pup as cool as these two.
OR, if you don't have any pups...make your own friend like Jeff did :)
Once the cookie is golden brown, immediately top with the 2 cups of chocolate chips. Let stand for 3 to 5 minutes or until chips begin to melt. Gently spread evenly over the cookie crust with a spoon.
Finally, set your oven to broil. Top the melted chocolate with the marshmallows and toasted pecans. Broil in the oven about 5-6 inches from the heat for about 1 minute. We kept the oven open to watch them brown, since it happens quickly. Be careful not to burn them!
After a minute, they are done! Let them cool for a good hour or two before serving since they will be very ooey-gooey (as Betty describes).
These turned out better than I expected! Sometimes gluten-free mixes don't work out so well, often falling apart. But these look good. So, if you have any gluten-free friends, these are guaranteed to put a smile on their face :) It is like a s'more in a bar!